T
he best news is that it's over. The hemorrhage of taxpayers money will end, but not before Commissioners Baucom, Mills and Pressley had squandered more than $1,000,000 of taxpayers funds trying to prove their own 'overblown' rhetoric and fabrications.
Thursday's (July 3) press conference, marked another of those scripted 'Baucom' dramas delivered with all the believability of a Saturday Night Live political parody. Facing down the press — Allan Baucom read a 6 page statement of weak justifications and attacks on fellow commissioners and the past board. Just imagine Baucom as taller Jon Lovitz, the Master Thespian, turning to the audience at the conclusion of his monologue, flinging his arm in the air and exclaiming loudly "A C T I N G".
Two thumbs down Mr. Baucom.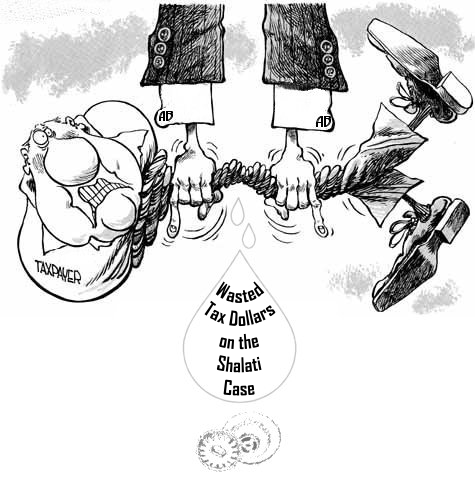 Putting on the Big Show
First, you need to realize that on Monday, June 30th with Allan Baucom in attendance, the mob of $400 dollar per hour County paid lawyers went face to face with Mike Shalati and his attorney and after 12 hours, they had hammered out an agreement. An agreement that could have occurred any time in the past 13 months without paying a Raleigh law-firm so much taxpayer money in the interim.
Over the next two days, the settlement specifics known only to the board majority, Mr. Baucom and his troupe of political thespians and legal wizards prepared for Thursday's news conference. The resulting performance is pages of slanted, petty and completely unprofessional editorializing, laced with cherry picked testimony, including some of the lone commissioner ((Kevin Pressley, for various reasons, never made any of the multiple deposition appointments, so there was no sworn testimony from him)) who was never deposed.
Sideways logic
Evidently, to these 'businessmen' commissioners, spending hundreds of thousands to save tens of thousands, is justified to inform the citizens of Union County to 'their version' of the truth.
Says the 'Chairman', "we have weighed everything that's happened to this point. We have gotten Union County will we believe it's people deserve. Above all else, this is the truth. That has been at some cost. But now that we have what we need and can put it in the open, we can stop that cost."
To paraphrase Mr. Baucom: We got as much of our 'truth' as we needed — let's stop now, before any contradictory evidence appears, Kevin Pressley is deposed and worse, Shalati wins in court.
If you examine Mr. Baucom's script, it is readily apparent that we're only getting half the story and his version of the truth. And sadly, Mr. Baucom's reputation for the truth over the last 18 months is as shaky as a 8.5 earthquake.
The fact is, we are not going to get the whole story, Kevin Pressley was never deposed, no testimony from his perspective as a member of the old board, nor as a leading figure in firing and subsequently withholding payment of Mr. Shalati's contract. Others of the board, Allan Baucom and Parker Mills were only partially deposed according to Mr. Shalati, but interestingly enough Mr. Shalati spent three days being deposed by the county's lawyers.
Two Wrongs – double the cost to the taxpayers
Make no mistake, the previous board majority was culpable in the costs that our citizens are paying today. Former Commissioners Stone, Sexton and Commissioner Roger Lane were wrong when they extended Mike Shalati's severance. While it was in their purview to review Mr. Shalati's job performance at the time, they could've just extended his contract another year without any changes to a severance package and let the incoming Board manage the future. Giving golden parachutes to government employees is wrong and doing so just to hamstring the next board denigrates not only the employee, but the taxpayers and voters of Union County as well.
The Real Reasons
As it stands today, in addition to the complicity of the previous Board, you are paying for the arrogance and spite of Allan Baucom, Parker Mills and Kevin Pressley, who after 30 days in office — executed the planned termination of Mike Shalati.
We will probably never know the real reasons behind the firing of Mike Shalati in January of 2007. Rumors are fed with stories of 'star chamber' meetings of the commissioner-elects, Chamber of Commerce executives and the large local developers, prior to the current board assuming their seats of office in December of 2006. There is a long history of feuding developer cliques that may have served as the fuel for Mr. Shalati's departure. The pathetic rationalizations of Mr. Baucom's script serve to bolster that hypothesis.
Regardless, let's look at the reasons, the "truths", Commissioners Baucom, Pressley and Mills were willing to spend upward of $1 million, maybe more to fire the County Manager.
First, they accuse Shalati of lying about Robert E. Lee holiday agenda item, the act of lying justifying termination. Quoting from Mr. Baucom's script, "a citizen had requested the board to consider recognizing Robert E. Lee's birthday. While Union County policy does not recognize any such birthdays, this matter would have come up on the agenda for a vote by the new Board at the same time as a federally recognized holiday for the birthday of Dr. Martin Luther King Jr. noting that this would create dissension in the community, Chairman Pressley was reluctant to place on the agenda. But at the meeting, Mr. Shalati indicated Parker Mills was in favor of this proposal and would support it." Forget the fact that Parker Mills is a Civil War war history buff and collects Confederate memorabilia, the whole premise is based on believing one witness – Kevin Pressley, who was NEVER placed under oath and deposed.
The second reason cited for Shalati's termination was failing to inform the board about a State sewer moratorium, enacted by the state on December 19, 2006. Here again, Kevin Pressley was 'conveniently' never deposed, under oath as to whether he was informed by Mr. Shalati. On December 19, 2006, Commissioners Baucom, Mill and Openshaw were attending 'Government school' outside the county and there is reported testimony that Parker Mills was in the car with Allan Baucom, when Mr. Shalati received a call informing him of the state action. Mills asked about the call and Shalati told him. Here again, no truth has stood the test in court.
There you have it. The $Million dollar reason. So I'll ask, since your tax dollars have been squandered and you the voter have no recourse, are you happy with the outcome?
To look at it another way, the Shalati settlement and county legal expenses is the equivalent of a 1/2 cent on the property tax for this year.
How many of the long overdue school building repairs could be done with a million dollars?
Breakdown of Mike Shalati's Contract
Source: Charlotte Observer

Two years' salary:
$369,600
Sick leave and vacation:
$226,484
401(k):
$12,505
Total Contract:
$608,589
Union County Lump Sum Settlement paid to Mr. Shalati: $650,000

Enquirer Journal Editorial: Spare us the rhetoric