R
ule stretching politicians is not something new, but most don't rise to the level or the prison digs of North Carolina's former Speaker of the House Jim Black — but it's not from the lack of effort. Officeholders with the kind of honor, honesty and idealism as depicted in the Frank Capra classic movie "Mr. Smith Goes to Washington," may not be commonplace anymore, if they ever were, but wouldn't it be great if they were.
The close of this week ended yet another chapter in what has become a rite of spring for NC House Rep. Pryor Gibson, as he tries to manipulate democracy to keep his developer friends in control of Union County. I know of many good souls in eastern Union, who have been bamboozled into thinking that Mr. Gibson is trying to help them, but the record shows a consistent effort to keep 'certain' influences in power. This year's attempt is no different, just more blatant.
Like the Capra character Senator Joseph Paine, Pryor Gibson is serving the special interests, which benefit by keeping Union County citizens divided and untrusting of one another. Divide and conquer – a strategy older than dirt.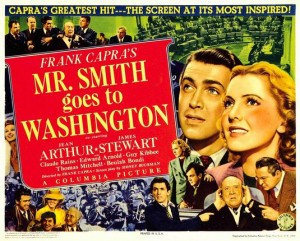 As apparent by the first version of Mr. Gibson's bill, the idea was to divide Union County in half, the west with three commissioners and the east with two. Only eastern voters would get to vote for their two commissioners, as would the west vote for their three, thereby forging separate constituencies and permanent jealousies.
Mr. Gibson even had the gall to boast in the presence of three witnesses, that he called Commissioner Parker Mills to ask which district he'd like to be drawn into; Mr. Mills chose the east – of course. It is plain to see that Mr. Gibson is trying to micromanage Union County's government, pulling the strings of it's citizens as the developers pull his.
In a quote in Friday's EJ article by Billy Ball, titled "District bill misses deadline but not dead", Mr. Gibson said when asked about his bill failing to make 'crossover', "You can always make bills eligible if there's a will and a way". If Pryor had a mustache, he would have been curling the ends up while making that remark.
This should serve as a reminder that Gibson is the kind of politician that will not let the House rules prevent him from achieving his ends, a "Capra-esque" arch-villain, made to order. Our only hope is that the majority of the House members have grown tired of the embarrassment brought upon them by Pryor's corruption.
An important part of the story not mentioned is the successful effort made by NC House Rep. Curtis Blackwood to derail Gibson's bill in committee, preventing it from moving forward. While Curtis is not the Jefferson Smith character as played by Jimmy Stewart in the movie, he did use his low profile mannerisms to help the committee members to see Mr. Gibson's bill for what it truly is – the disenfranchisement of all Union County voters.
Mr. Blackwood was certainly aided by the incredible display of arrogance as Mr. Gibson offered a number of substitute revisions to his bill, each more objectionable than its predecessor.
Curtis Blackwood did yeoman's work and deserves proper recognition for his efforts. And, I'd also offer three cheers to the members of the Local Government II Committee for their clarity of vision – sans Rep. Pryor Gibson of course.